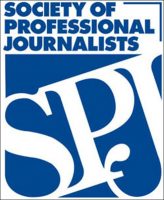 Two NMSU students from the Department of Journalism and Media Studies were recognized last weekend at the Society of Professional Journalists annual Region 9 conference in Albuquerque, New Mexico.
Shelby Kapp and Andrea Vazquez were both named finalists in the SPJ Region 9 Mark of Excellence Awards competition. The competition recognizes outstanding collegiate journalism in Colorado, New Mexico, Utah and Wyoming.
Kapp and Vazquez were both finalists in the Television General News Reporting category for their stories titled "Hugs not walls" and "Bed bugs," respectively. Both stories originally aired on News22.
Kapp graduated in December of last year and is now working for KTSM–9 TV in El Paso, Texas. Vazquez is a senior who is expected to graduate in December 2019.