Academic Year 2020-2021 Internships Available to Students
Internships are essential building blocks for successful careers. Most media organizations today are hiring graduates with a minimum of two internships.
NMSU students who have completed JOUR 110, 201, 210 and the first course in their chosen area of emphasis (JOUR 300, 310, 314, 319 or 374) are now ready to gain the kind of real-world experience that internships provide.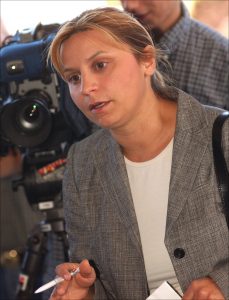 The Department of Journalism and Media Studies offers two opportunities for internship credit: JOUR 407 (Media Internship) and JOUR 408 (Media Practicum).
JOUR 407 is a three-credit course that requires students to put in 60–80 hours of work during a semester or summer.
JOUR 408 is available for variable credit (1–3 credits). This course allows students to complete a second internship for course credit or to undertake an internship for fewer hours over the course of a semester or summer.
Journalism students usually undertake internships in Las Cruces, New Mexico, or El Paso, Texas, during the spring and fall semesters. The region's radio and television stations, newspapers, magazines, advertising agencies, public relations firms, government agencies and sports teams accept interns.
The Department of Journalism and Media Studies has developed particularly strong ties with the New Mexico Press Association, the radio and television stations in Las Cruces and El Paso and the region's advertising and public relations agencies.
NMSU students desiring summer internships in larger media markets have found work in Denver, Phoenix, Tucson, Los Angeles, San Francisco, Austin, Seattle, Portland, Atlanta, Kansas City, Detroit, Chicago and Boston.
Our students have obtained prestigious, highly competitive internships at CNN, ESPN, The Boston Globe, the Phoenix Suns basketball team, various congressional offices and federal agencies in Washington, D.C. and at the U.S. Olympic Training Center in Colorado Springs, Colorado.
Ready to take the next step toward your professional career?
Contact Dr. Mary Lamonica (575-646-4638) or Mr. Hugo Perez (575-646-1741) today to schedule an appointment to discuss your career goals and internship placement options.
We'll help you locate local, regional, national and even international internships that fit your needs and career goals.
Need help creating or polishing your resume and cover letter? How about selecting portfolio material to show to prospective internship providers? We can help you with that, too!