NEWS22 
News22 is a live, local, thirty-minute television news broadcast that airs several days a week in all of southern New Mexico and far west Texas. New Mexico State University students produce News22 for PBS affiliate, KRWG-TV.
This award-winning newscast provides a unique opportunity for students to gain real-life experience in television journalism and performance. Students produce, write, report and anchor news, sports and weather under the direction of experienced television news professionals.
The live studio production is entirely staffed with a student technical crew. Students also produce news segments in Spanish. When students graduate from the News22 newsroom and studio, they have all the tools they need to succeed and thrive in a highly competitive field.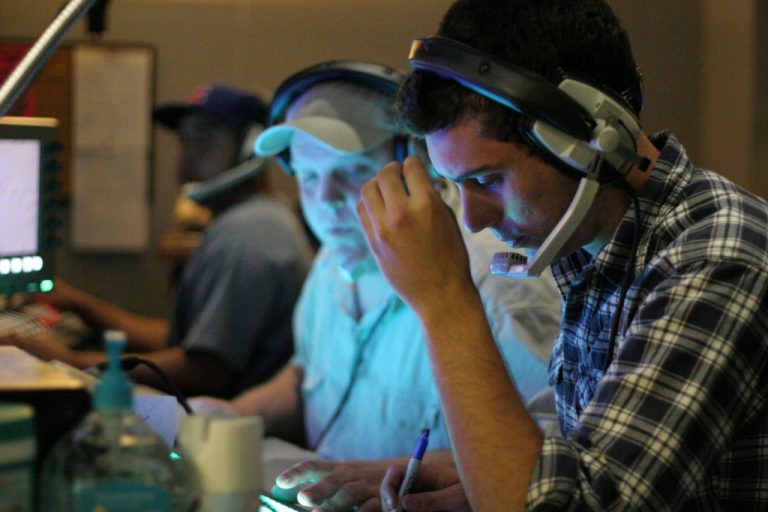 News22 has been on the air for more than 20 years and has helped students become leaders in the world of broadcast journalism. Turn on the local television news in almost any major city in the United States and you are likely to spot News22 and NMSU alumni.
Some students volunteer, others are paid employees, and still others take News22 for course credit. Students from all over campus take part in News22. Students do not have to be journalism majors to get involved. For more information, contact Mr. Nick Miller at nickmil@nmsu.edu.
---
NOTICIAS22

Noticias22 is a Spanish language news broadcast produced by NMSU journalism and media studies students. Noticias22 provides real-world anchoring and producing experience for students. Noticias22 provides local and national news, weather and sports coverage. For more information, contact Mr. Hugo Perez at huperez@nmsu.edu.