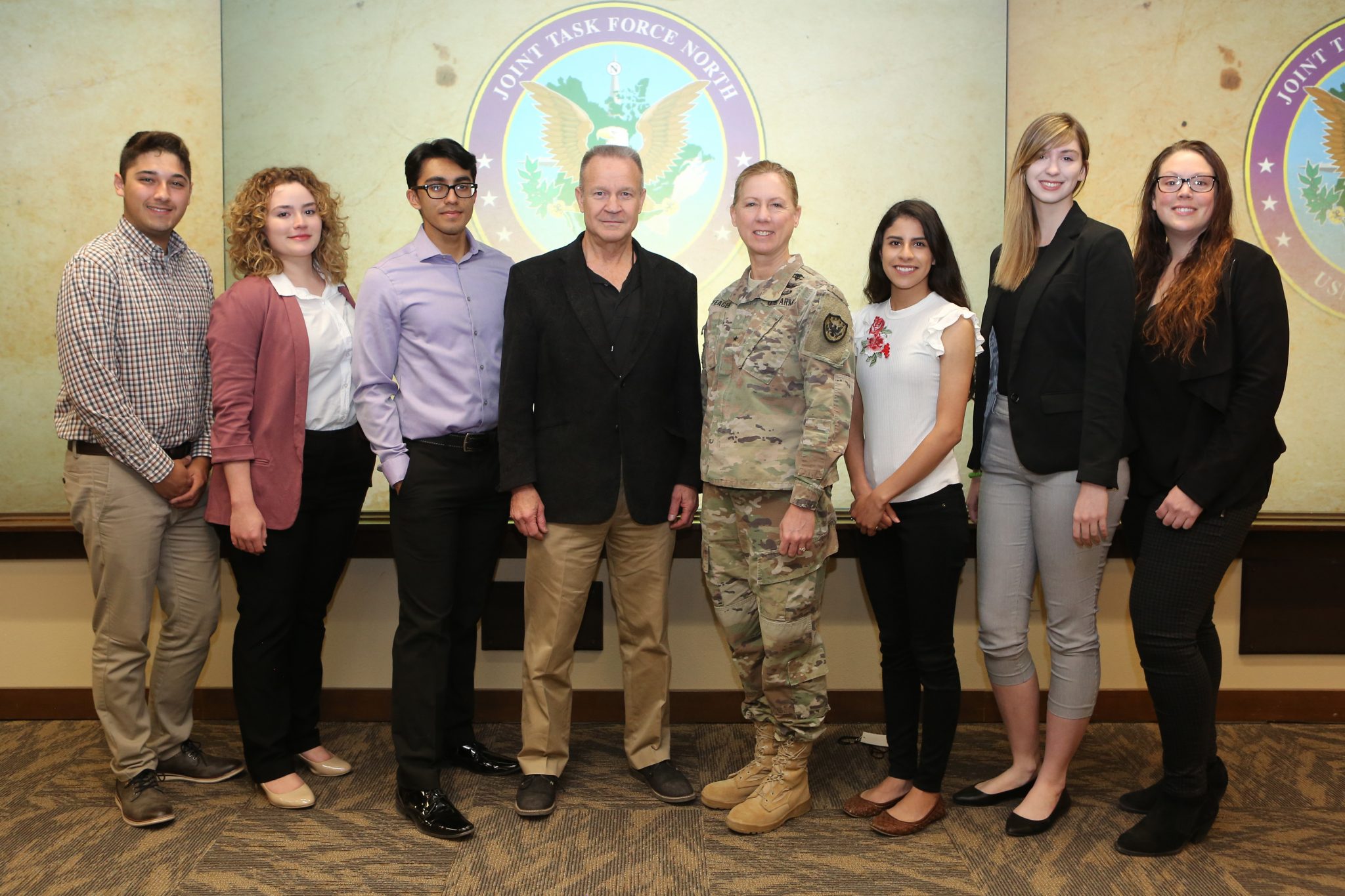 Photo: From left: NMSU journalism students Gabriel Chavez, Natalie Prieto, Angel Hernandez, College Assistant Professor Nick Miller, Brig. Gen. Laura Yeager, Commander Joint Task Force North, Andrea Vazquez, and students Hannah Jackosky and Fiona St. Pierre visit Biggs Field at Fort Bliss in El Paso, Texas, for a media training exercise. (Courtesy Photo)
Six NMSU journalism students participated in a media training exercise April 12 at Fort Bliss in El Paso, Texas.  The exercise was designed to teach senior military officials how to talk to reporters under a variety of disaster scenarios. 
The NMSU students were used as media stand-ins and were tasked with asking military officers scripted questions in one-on-one interviews. The military officers were able to practice being interviewed by the media and the students had a chance to practice their interviewing skills.
The exercise was organized by Joint Task Force North at Fort Bliss. The task force is used to support federal law enforcement agencies in the event of suspected transnational threats at or near international U.S. borders. 
"Joint Task Force North is very grateful for the support of New Mexico State University's Department of Journalism and Media Studies and its assistance in providing strategic guidance in media training and crisis communications for our senior staff," said Sarah Lifshin Amato, Joint Task Force North's public affairs officer. "These students represent the future of the media industry, and I am confident they have bright and successful futures ahead of them."
Sophomore Gabriel Chavez, one of the six NMSU students who participated in the exercise, said, "It was a great educational experience benefitting my future goal of becoming a journalist. [The exercise gave us] experience we wouldn't get in the classroom."
Read more on this story and the history of Joint Task Force North on the University Communications and Marketing Services News Center website.