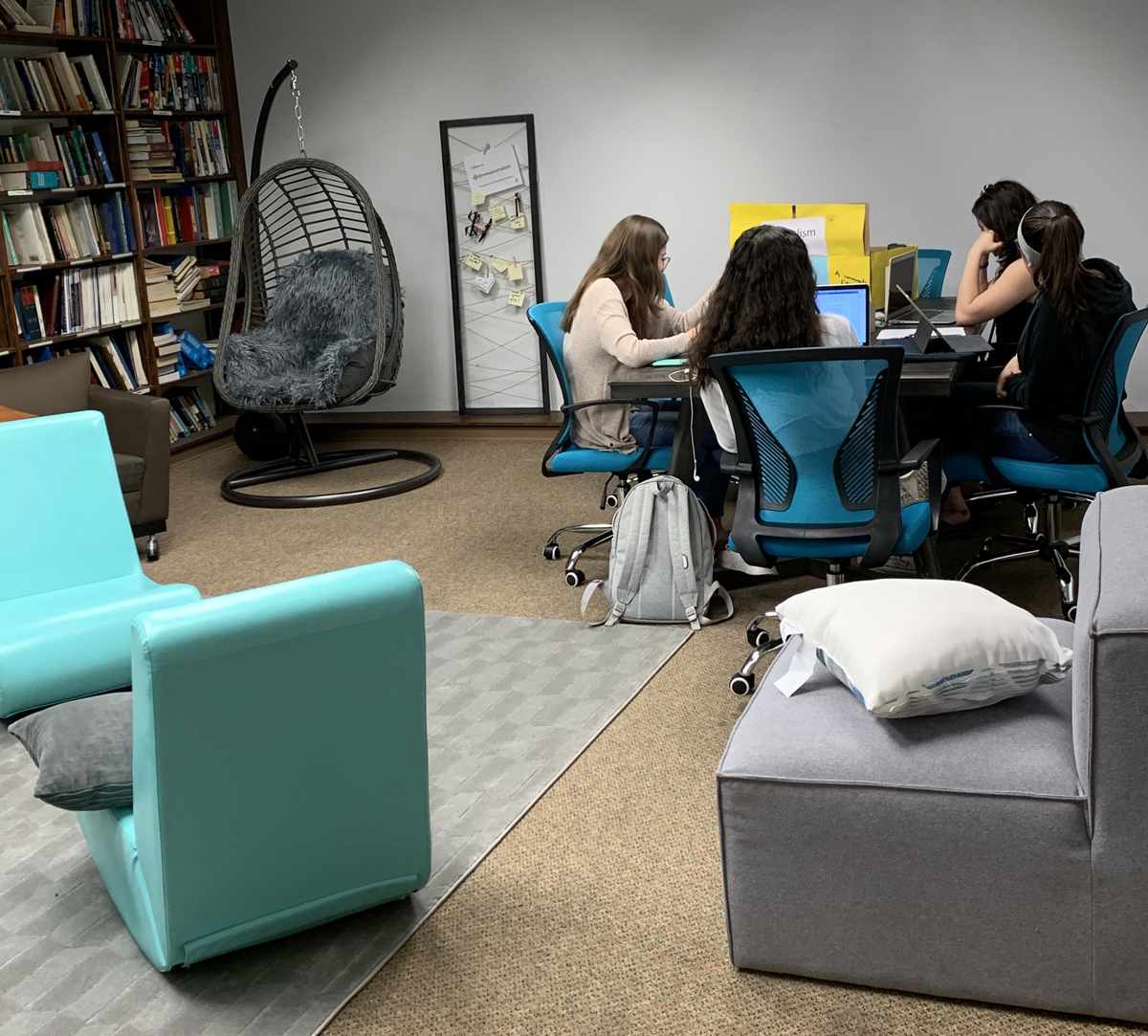 The NMSU Department of Journalism and Media Studies opened a new student lounge inside Milton Hall Oct. 31. The old Steve Pasternack Reading and Research Room was completely renovated in an attempt to provide a more comfortable space for students to study and hang out.
Several furniture items were added to the room including new lounge chairs, a new table with seating for six, as well as a fresh coat of paint, new area rug and a snack and coffee station.
Jessica Tarin, a student aide in the Department of Journalism and Media Studies who currently manages the department's Facebook and Instagram accounts, first had the idea to transform the Pasternack room from a reading room into a more casual lounge space. "I wanted to invest in the students," Tarin said.
Providing an inviting space where students can gather to recharge in between classes, work on homework, or simply just hang out was Tarin's intention. Department Head Hwiman Chung indicated he was pleased with Tarin's idea. "I really liked the concept of the room," Chung said. He plans to invite the Pasternack family to visit the new lounge.The finished product has been well-received by students. Journalism major Eman Gadi responded enthusiastically. "I think it's comfortable and different. We aren't just working at a desk," Gadi said.
Alanna Herrera, a fellow journalism major, agreed with Gadi. "I like that it is a quiet space, and that we don't have to go across Frenger to Zuhl," Herrera said.
Several other students have expressed their excitement about the lounge claiming that it is inviting, cozy, easy to work in and just what the department needed.
According to Chung, the room will now be known as the Steve Pasternack Student Lounge and Reading Room.
Photo: Students in the Department of Journalism and Media Studies congregate in the new student lounge area located inside Milton Hall. The newly named Steve Pasternack Student Lounge and Reading Room was the brainchild of student Jessica Tarin, who designed the room. (Photo by Jocelyn Dominguez)
Jocelyn Dominguez is a journalism and media studies major at NMSU.